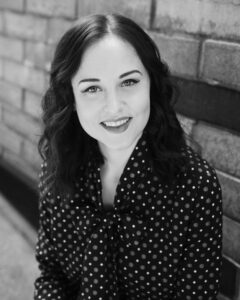 Equipped with a bright, bell-like voice, Canadian mezzo-soprano Cassidy Stahr (B'Mus 2020, UVic) lives and works as a freelance vocalist in Victoria, BC. She is proficient in several styles of singing.
She made her chorus debut with Pacific Opera Victoria in Puccini's Il Trittico in October 2019, and since then, has performed in classic operas such as Don Giovanni, Carmen, and Cosi fan tutte. She was a featured artist in their 2020 summer outreach program, Pop-up Opera: an accessible concert series exhibited in various public spaces in the greater Victoria area. She attended Opera NUOVA in 2022 to perform Menotti's The Consul (Secretary) and Tuck Everlasting (Mae).
Cassidy studied musical theatre and dance at the Lindbjerg Academy of Performing Arts, and she has taken part in many large-scale community theatre productions in the Tri-Cities area of greater Vancouver. Some of her favourite past roles include Elle Woods in Legally Blonde, Gingy and Dragon in Shrek: The Musical, and Iago in Aladdin.
Her most recent concert soloist engagements were in Pacific Baroque Ensemble's Old Music for the New Year concert, Bach's Magnificat and Handel's Dixit Dominus with the Victoria Philharmonic Choir and orchestra, and Messiah with Bach on the Rock. She looks forward to performing Elgar's Sea Pictures as part of the Victoria Chamber Orchestra's Nature in Music concert.
Following 5 years of choral scholarship at Christ Church Cathedral, she now sings in the touring Vancouver Island Chamber Choir, which presents international and multi-generational ensemble pieces.
Throughout her undergraduate degree, Cassidy was a chief organizer of the award-winning UVic Vocal Jazz and Contemporary Music Ensemble, and she regularly composes arrangements for solo and small-ensemble vocal jazz groups. She covered as director of the ensemble from 2021–22. She now sings background vocals for The Midnights R&B band in Victoria, which will be touring to Denmark in summer 2023 to play in Copenhagen and Aalborg's Den Blå Festival.